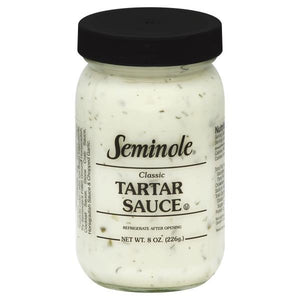 Seminole Florida Tarter Sauce
Seminole Foods is an industry leader in the production of fresh ground horseradish and specialty sauces. Seminole consistently processes only the best roots available and uses no bleaching agents or sulfates. Taste, texture and freshness are key to all Seminole products. These relationships, specialized formulation processes, and state-of-the-art manufacturing & distribution facilities allow Seminole to maintain the highest level of quality and freshness standards in the industry.
Disclaimer:
All orders are weighed within 1/10 of a pound

A

ll local deliveries will be Tuesday and Thursday between 4-6pm

All local delivery orders must be placed by noon Tuesday or Thursday for same day delivery.